24th February 2016
Transporting a classic motorcycle
We were contacted by Historit (A classic car and motorcycle storage company), who are based in Bicester oxfordshire to request motorcycle transport for a one off gasbox Norton Dominator. We jumped at the chance.
Built by one of Americas finest motorcycle builders Jesse Bassett, this is a proper piece of engineering, and we had the pleasure of transporting it and seeng it in all its glory!
Read more about this beautiful machine at:
www.bikeexif.com/norton-dominator
Historit call on us to transport high value motorcycles for their customers because they know that with our expertise, when it comes to transporting motorbikes, the job will be carried out safely, effiently and on time, everytime.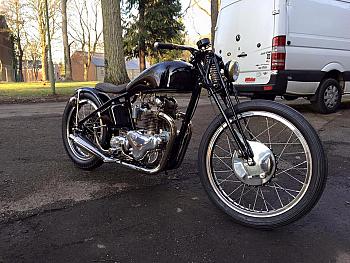 Why use Motorcycle Delivery UK?
A friendly family run business with over 10 years experience delivering throughout the UK
We do our best to offer an unrivalled service at an affordable price
Our vans are also fully insured via AXA up to £50k per load exclusively for Bikes/bike parts