14th November 2014
Scooter Delivery and Collection Service
Fully insured transportation for your Scooter
Are you looking for a company to collect and deliver your scooter?
Let motorcycle delivery UK handle everything for you.
Our bespoke transport vans are fully equipped to collect and deliver any kind of Scooter, from a classic Lambretta to a brand new Piaggio MP3.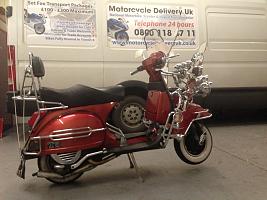 Scooter Shops
Scooter shops all over the UK trust us to transport Scooters they have sold.
We arrange collection of the Scooter from their shops and deliver them right to their customers door, safely and efficiently.
Who does our Scooter Transportation service cater for?
Are you a Scooter dealer or restorer who has enquiries from around the UK?
Our service would really help to add value to your business, by offering a collection and delivery service to your customers, it could only help your business grow.
Have you purchased a Scooter from Bike trader, Ebay or from a scooter shop?
Our service is exactly what you have been looking for, let us handle everything and transport your scooter directly to your door.
Choose our Scooter delivery and collection service because:
Scooter shops all over the UK use our Scooter delivery service
Every scooter we transport is fully insured
Our vans are fully equipped to collect and deliver your scooter
Piaggio UK contracted us between 2008-2010 to transport their scooters
We are reliable, punctual and courteous at all times
We can store your classic scooter in our secure motorcycle storage unit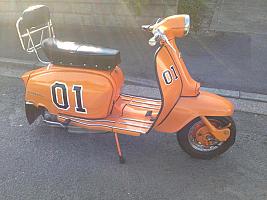 Thank you for considering us to Collect and deliver your scooter.
Please call or email to get a quote.
Why use Motorcycle Delivery UK?
A friendly family run business with over 10 years experience delivering throughout the UK
We do our best to offer an unrivalled service at an affordable price
Our vans are also fully insured via AXA up to £50k per load exclusively for Bikes/bike parts