20th October 2014
Motorcycle Transportation for Removals Companies
When moving house please make sure to ask your removals company if they are fully insured to transport your motorcycle.
Many removals companies around the UK use Motorcycle Delivery UK to transport their clients motorcycles on their behalf, this leaves them to concentrate on the safe tranpsorting of their clients household goods.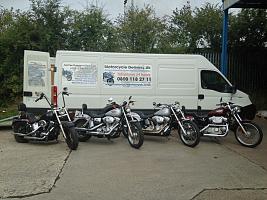 If moving house and you need your motorcycle delivering it will work out cheaper to come to Motorcycle Delivery UK direct, the removals companies will nearly always add a fee on for arranging us to deliver your motorcycle.
We can also collect and store your motorcycle until you have moved and are fully settled at your new home, our motorcycle storage costs are very competitive.
Why use Motorcycle Delivery UK?
A friendly family run business with over 10 years experience delivering throughout the UK
We do our best to offer an unrivalled service at an affordable price
Our vans are also fully insured via AXA up to £50k per load exclusively for Bikes/bike parts