2nd September 2015
Motorbike storage
Safe Motorbike Storage
At Motorcycle delivery UK we not only transport motorcycles but we provide storage for your motorbikes too.
We store your bikes in our 1250 sq/ft unit, it is dedicted to storing our customers motorcycles and nothing else.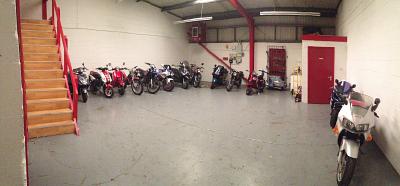 We can provide a variety of motorbike storage solutions to suit every bike and budget. Our storage facility is situated on a busy gated industrial estate, it is monitored by 24 hour remote cctv and has a state of the art 175 decibel alarm system.
We provide storage for a broad range of clients, from armed forces personnel who have been posted overseas and need a safe, dry enviroment for their motorbike to be stored in to Customers who have moved house and have no where to keep their pride and joy often choose us as their prefered motorbike storage provider.
We can cater for your needs regarding collecting your bike and bringing into storage, then arranging delivery back to you when needed, all for a fixed all inclusive cost.
Our motorbike storage prices start from as little as £10 per motorcycle per week.
Why use Motorcycle Delivery UK?
A friendly family run business with over 10 years experience delivering throughout the UK
We do our best to offer an unrivalled service at an affordable price
Our vans are also fully insured via AXA up to £50k per load exclusively for Bikes/bike parts