24th November 2015
Buying a Used Motorcycle - A Beginners Guide
Where to start
Local dealers - check out their second-hand stock. A lot of dealers are acquiring more and more used motorcycles to sell, some are offering big incentives such as lifetime warranty or free delivery.
Search online - Ebay, Bike Trader, Gumtree, Facebook and Scooter Trader are just a few online market places where you'll find motorcycles and scooters for sale.
Compare prices, decide your budget and choose what make/model/age motorbike you want to purchase.
Don't Rush Into Buying
When you find a motorcycle/scooter that ticks all or most of your checklist, ask plenty of questions.
if you're buying from a dealer, see what they can offer in terms of a service plan or warranty.
If you are buying online and the motorcycle is too far away to view, you could search for a bike mechanic that is local to the motorcycle you're interested in. It would be costly but if the seller agrees, getting an independent mechanical check up on the bike could save you a lot of money in the future. They could also check frame/engine numbers and paperwork on your behalf.
Things to Look Out for When Viewing
Have a look at the chain - it should be no slacker than about an inch and a half. If it's any slacker make sure the adjustment nuts are not at their limit. If they are, then it's new chain and sprocket time soon.
Roll the bike forwards and apply the front brake. Roll forwards again and apply the rear brake. If a grinding noise can be heard then either the drum needs cleaning or the shoes will need replacing.
If you can hear a high frequency tapping sound from the top part of the engine (the cylinder head), this could mean the tappets are worn and need to be replaced - or they could just need adjusting. If they do need replacing, it can be very pricey.
If you can hear a low-frequency knocking sound coming from the bottom part of the engine, it might mean the big end has gone and you'll need a full engine rebuild. RUN A MILE
Turn the bars both ways, check for grinding and cracking. If it's noisey on turning it could mean it needs new bearings.
If you can see dark smoke coming from the exhaust it will probably mean the piston rings will need replacing, another pricey job.
Tyre tread, anything less than 1mm is illegal, check for cracking and perishing.
Check the cylinder head, make sure there is no oil coming from it.
Bounce the front end of the bike up and down, look for oil leaking on the forks, if you can see oil on the forks it probably means the seals have gone and will need replacing.
Check the forks for pitting or rust, you'll have nothing but problems down the line if there is.
If the seller will let you, ask for a test ride. Accelerate through each gear, slow with the front brake, slow with the back brake, turn right and left and do a U-turn.
If you suspect something is not quite right, don't be afraid to walk away from the sale.
Making payment and getting your motorcycle home
If you're buying from a dealer, you may be purchasing the bike through their in-house finance. Their rates can be competitive BUT do try to haggle for a better rate.
If you are purchasing from a dealer they may offer to safely transport your motorcycle to your door. This would usually be for a fee, some dealers will transport your new motorcycle to your home for free.
Buying from a private seller is different. Make sure you feel comfortable with the payment method. If you can't collect yourself, make sure they are happy with a third-party sorting out the collection and delivery of your new motorbike.
If the motorcycle is too far for you to collect, hire the services of a motorcycle transport company. For a set fee, they can check documents, check the cosmetic appearance of the motorbike/scooter and arrange for payment to be made on collection of the bike.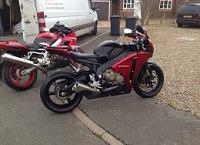 Why use Motorcycle Delivery UK?
A friendly family run business with over 10 years experience delivering throughout the UK
We do our best to offer an unrivalled service at an affordable price
Our vans are also fully insured via AXA up to £50k per load exclusively for Bikes/bike parts