Andy, Coventry

Hi Scott & Motorcycle Delivery UK

I have attached a photograph of me sitting astride my newly delivered Motorbike.

It's just arrived in the time slot that I'd been given for Delivery, very many thanks to Dan.

The bike is a 1951 BSA M21 600cc side valve single and is restored to museum quality.

I was very pleased with the communications and the way that Collection and Delivery was arranged within just a couple of days. The price was very competitive too.

Very many thanks to Motorcycle Delivery

Andy Maslin




Bike of the Month
Every month we like to showcase some of the fantastic bikes that we have the pleasure of delivering or storing. Check out this months Bike of the Month!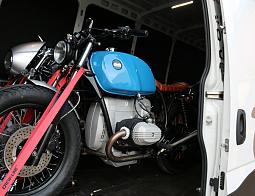 Kevill's Speed shop
We collect and deliver a lot of bikes for Kevill's speed shop in Devon.
Kev takes Bmw's and turns them into Cafe racers, so much time and effort goes into these pieces of art, Kev has buyers for his bikes from all over the world!!
Why use Motorcycle Delivery UK?
A friendly family run business with over 10 years experience delivering throughout the UK
We do our best to offer an unrivalled service at an affordable price
Our vans are also fully insured via AXA up to £50k per load exclusively for Bikes/bike parts