Jim Baxter, Scotland.

Just a quick word of thanks for the excellent quality of Motorcycle Transport Service from the point of contact (Sunday the 20th of October) to the delivery of my Honda CR125 Motorbike (Thursday the 24th of October) which was picked up from South Wales and delivered to central Scotland. The staff from the office to the Motorbike Delivery driver couldn't have been more helpful. Would definitely recommend and will use again to Transport my Motorbikes.

Thanks, Jim Baxter
Victor caruana, Malta

Motorcycle Delivery Uk is the best you can find in England. We are one of the best motorcycle dealers in Malta and we use a lot this company to import and export Motorbikes to and from Uk , they offer excellent and prompt service also with very good rates, Scott Wood and his team are very efficient and also offer good customer service. Last BUT not least motorcycle delivery uk are very professional how they handle the bikes , we have been using this company for the last five years never had any complains or any Motorbikes with anything damaged.
John, Blackpool

Hi Scott

When your van arrived exactly on time to collect my BMW cafe racer I was so relieved to see a properly equipped motorcycle transporter, it's always a worry when your pride and joy is being taken away by a stranger in a van, but Dan was so friendly and professional I was confident that all would be well. My 900ss is ready for a belt service so I'll be contacting you soon to Collect and Deliver my Motorcycle to Ducati John in Leeds.

Thanks again
Regards
John
Bike of the Month
Every month we like to showcase some of the fantastic bikes that we have the pleasure of delivering or storing. Check out this months Bike of the Month!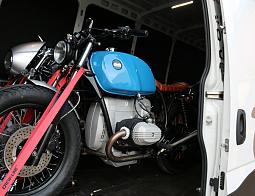 Kevill's Speed shop
We collect and deliver a lot of bikes for Kevill's speed shop in Devon.
Kev takes Bmw's and turns them into Cafe racers, so much time and effort goes into these pieces of art, Kev has buyers for his bikes from all over the world!!
Why use Motorcycle Delivery UK?
A friendly family run business with over 10 years experience delivering throughout the UK
We do our best to offer an unrivalled service at an affordable price
Our vans are also fully insured via AXA up to £50k per load exclusively for Bikes/bike parts